Download "Ukraine Simulator 2" right now to:
Immerse into the world of ruling the whole country.
Learn what everyday tasks the President has to solve.
Create a prosperous country.
Develop a thought-out ideology and country development strategy to improve the quality of living.
Do not forget about the following tasks:
Handle emergencies occurring in the country.
Ensure your own safety.
Fight corruption.
Fight terror groups.
Wars and expansion.
Espionage in the enemy's army.
Conduct army drills (there more than 10 kinds of military weaponry available to you).
Conclude commercial contracts and nonaggression pacts with other countries.
"Ukraine Simulator 2" features the following:
Ministry of Ecology
Ministry of Energy
Ministry of Infrastructure
Ministry of Construction and Housing Services and Utilities
Ministry of Culture
Ministry of Social Policy
Ministry of Sports
Ministry of Science
Ministry of Education
Ministry of Defence
Ministry of Healthcare
Ministry of Justice
Ministry of Foreign Affairs
Ministry of Employment
Ministry of Emergency Situations
Police
National Guard
Revenue Service
Also, you can trade, construct more than 50 unique plants and do many more things.
Appoint Ministers of key Ministries to ensure effective and reliable management of the country.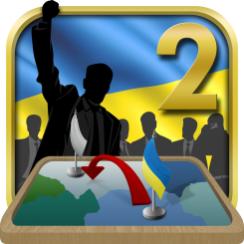 Google Play: https://play.google.com/store/apps/details?id=gosoft.ukrainesimulatorsecond
App Store: ‎Ukraine Simulator 2 on the App Store
Oxiwyle: Ukraine Simulator 2 — Oxiwyle