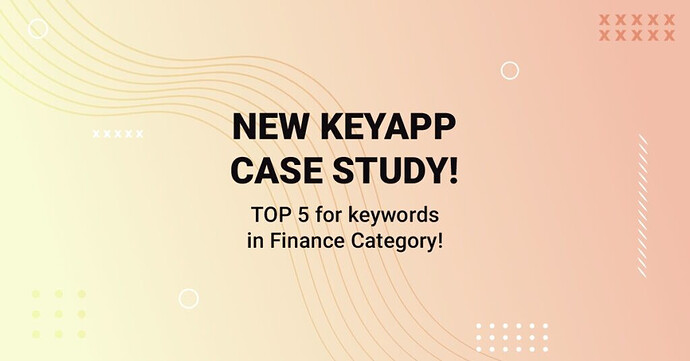 TOP 5 for keywords in Finance Category in the US! Check Keyapp New Case Study!
Everyone may face the period when the loan app may be needed, so at our side we help to promote many of such apps and the main groups of keywords are not only high frequency competitive keywords like "borrow money" or "loan app". It is possible to gain more traffic from promotion of less popular but more precise keywords: "borrow money now" with 2000 daily traffic, "free money borrowing" with 600, "real payday loans" with 300. Apps that are in the top 10 combine 80% of keywords daily traffic, so it is worth promoting your app using keyword installs. You start seeing more organic installs as you hit the top 10 spots with high traffic keywords.
It is worth mentioning that promotion of each application can differ significantly, so the results could be different as well. As our promotion influence only app positions for keywords, there are some other factors that depend on your work with the app:
in-app activity
application history
app page quality
organic installs amount
current ranks of relevant keywords
In the next case we would like you to pay attention to the apps, keywords and regions which were promoted. In our experience (you can see it in the provided examples), it is effective to promote loan apps not only in the most popular regions, like the USA, but in other geos as well. So here we want to give you some examples of apps, keywords they are ranking for and groups of keywords they are now promoted in search by specific region. We recommend you to pay attention to the number of installs and days in the campaign and how many positions this app increased in search for.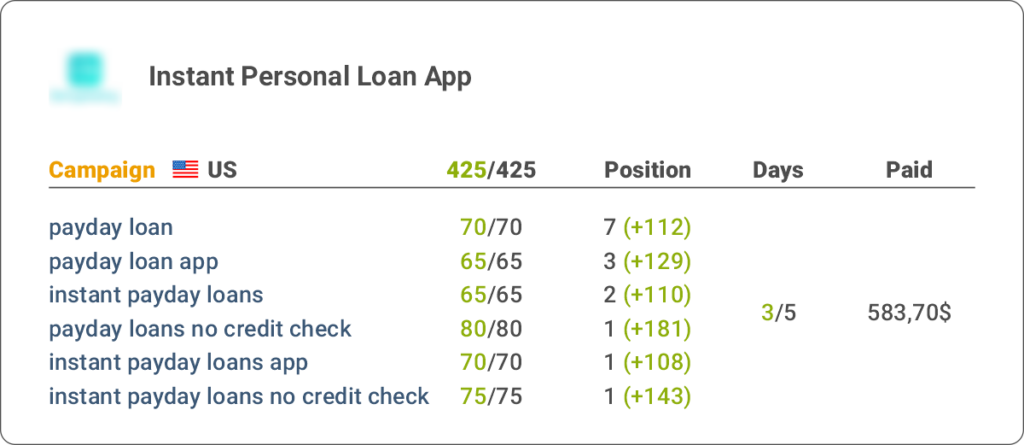 Here you can see a campaign for 5 days with 2750 installs in general. For example, "payday loan app" keyword has reached rank 3 after the promotion. (+4) shows how many ranks have been raised. In the second screenshot, you can see the order details, how many installs were set daily, how many installs were delivered and total information about the amount of installs used for each keyword.

Next you can see a growth statistic of the "payday loan app" keyword in USA. Ups and downs of the rank are normal during the first few days of promotion, because the Google algorithm often takes 3 days to update changes. We started the campaign on April 13th and we lost some ranks by the 16th of April. Then it grew up on the day after it and we reached rank 3 on April 18th. As our promotion is step by step promotion, two weeks are normal for that kind of growth. Please, keep in mind that Google algorithm works really in a different way than Apple's if you worked only with iOS apps before. While working with Google we may see the rank increase in some time after the installs are delivered. As we said previously, usually it is 3 days, but it may take even up to 7-10 days.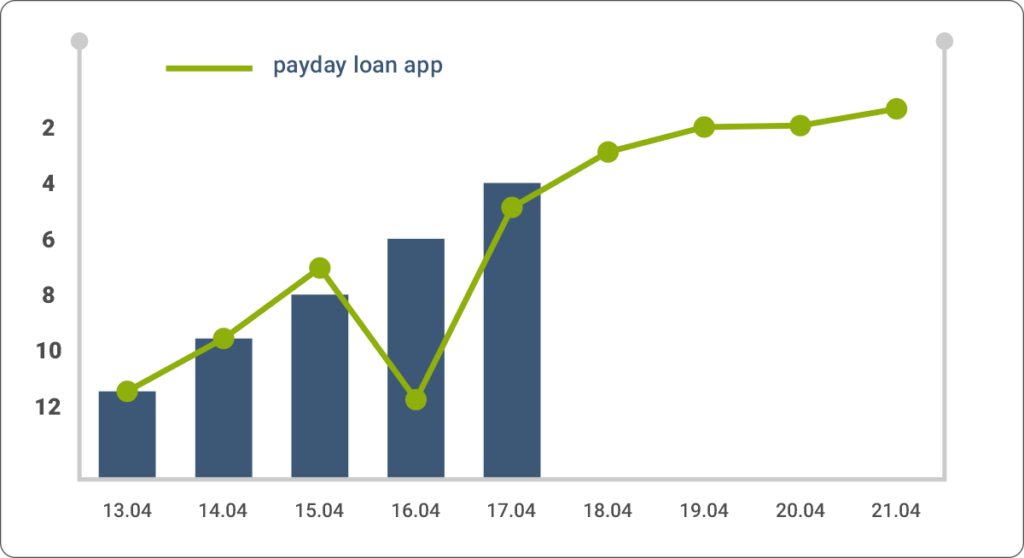 By the way, have you ever though why we usually provide the examples both for Google Play and AppStore? The answer is quite easy, as both app store optimization and keywords promotion on these stores differ a lot. To get more details, read the following article in our blog.
Next example is for iOS app promotion of the same category in the US. We recommend setting up 1-3 days campaigns for AppStore as it is believed that Apple algorithmalgorith reacts better when a higher amount of installs is delivered within the shorter period of time, while Google likes when the installs are being delivered for longer period of time. Also, usually more installs for keyword daily are needed, as Apple algorithm mostly pay attention to the amount of installs the app receives daily for the particular keyword and increase the position, while any additionalassitional actions as returns in the app etc are not required.


On the next screen you may see the graphic which shows the increase of the keyword "money loan app". As you may see, we used the same amount daily during 3 days. The result from the installs is observed at once all the downloads were delivered. That is what we mentioned before, that Apple requires less time to update the positions and we may see the result at once as their algorithm proceeds the installs delivered faster and reacts with the position increase.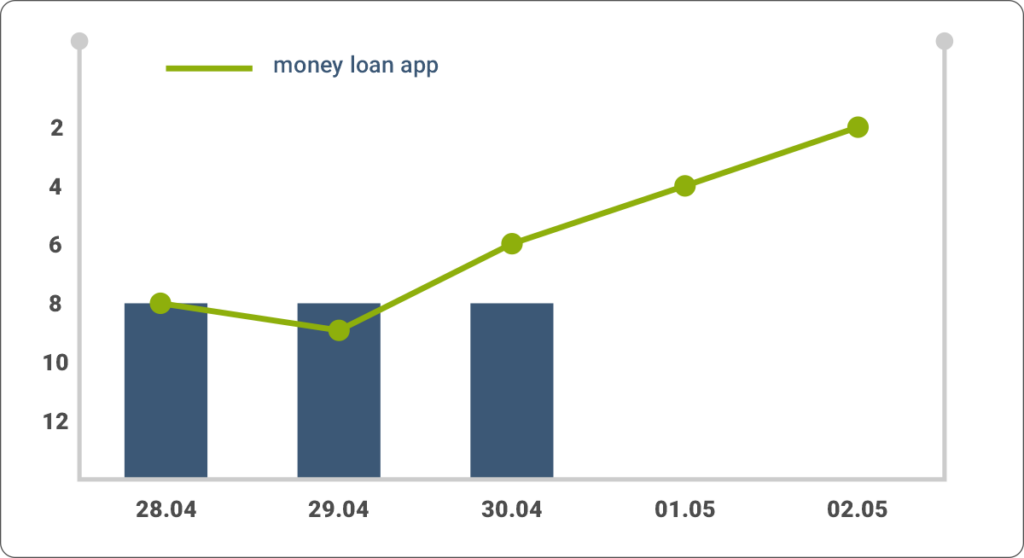 As you may see from the examples above, even promotion of such competitive app category as loans may be completely successful. Keep in mind that promotion for Google Play and AppStore is conducted using the different strategies and approaches due to the algorithms stores have. But that is not the issue for us, as we follow all the trends and updates, so our support team is ready to help you with all the campaign settings, as we can create the most efficient strategies that will help your app to achieve top positions in search!