Heard of Rob Ford?
Heard of any of the people running to replace him as mayor of Toronto?
Now you can put yourself into the 2014 Toronto mayoral election (or just smack Rob Ford repeatedly, whatever helps you blow off some steam).
Challenge your reactions and recognition ability with the challenge mode, or just release some stress.
Now on Google Play at:
https://play.google.com/store/apps/details?id=com.gbapps.whackamayor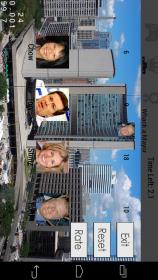 Description:
Whack a Mayor features Toronto Mayor Rob Ford and the three leading candidates to replace him.
Look into the Toronto 2014 mayoral election with this fun game that lets you take it out on the major candidates. You can whack who you want, or you can play challenge mode.
Please see my website for more inWhack a Mayor | Glass Bottle Apps
Happy whacking!