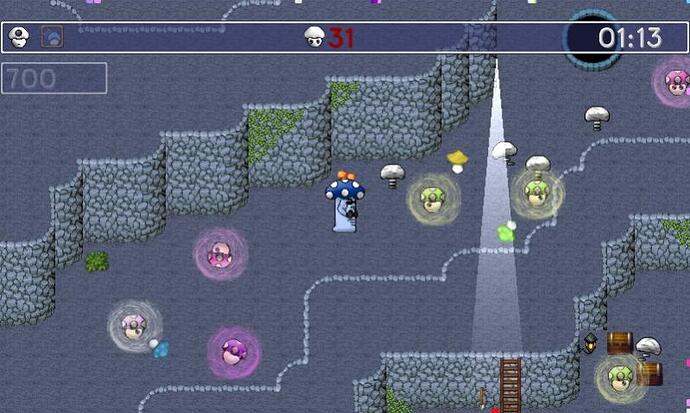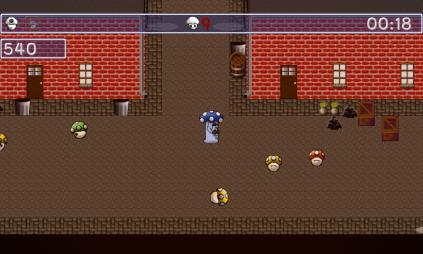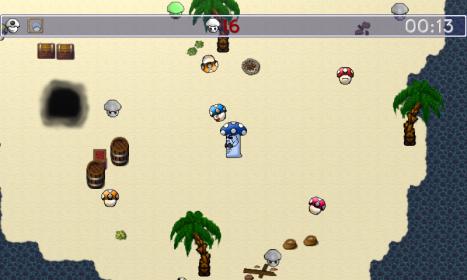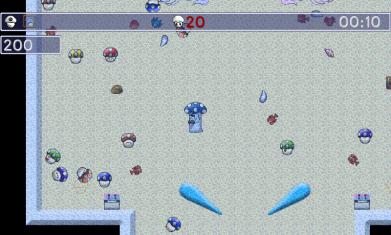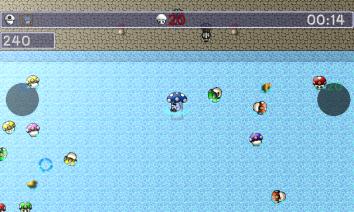 MushRoom Bounce! is a unique, addictive, 2D physics game where you spin, bop, and ricochet Mushrooms into various holes to clear each level. Kino Koichi is the Mushroom Bouncer, a bodybuilding mushroom whose job it is to "bounce" unruly mushrooms that are invading human territory! To keep the peace between mushroom and human kind, Koichi is on a mission to get the mushroom outbreak under control. Under ground, above ground, and back in time – the mushroom madness is spreading in this addictive, crazy, retro, mushroom-bopping adventure!
Mushrooms abound out of bounds in this wacky mushroom-bopping adventure, set in a myriad of different locations… including some that might leave you scratching your cap. A cafe, the city streets, a desert island, a haunted house – You never know where the little shrooms might pop up next!
Cute as they may be, this fungal frenzy is getting out of hand. Time to put these cute little guys back in their place. Like the bouncer at any exclusive club, it's time to bum-rush these mushrooms down whatever convenient hole you can find!
Join Koichi in level after level of mushroom bouncing fun – put on your sunglasses and get bouncing today!
MushRoom Bounce! Features:
Realistic, 2D Physics Action
Adapts to fully use each screen size; (480 x 800 or higher recommended)
Like in Basketball or Billiards, a Mushroom's "spin" affects how it bounces
Available for Android, Windows, Mac, and Linux
Wireless bluetooth HID Gamepad Support
You can also play using touch controls: fling/swipe action and/or on-screen joystick & buttons
Supports keyboard input, including joysticks that behave like a mini keyboard
Optimized for MOGA Controllers
Leaderboards and Personal High Scores saved to server
33 Unique Areas
High Quality 28-song Soundtrack
FREE Version Includes 41 Levels!
Tons of Variety – Each level has its own funny details and surprises
P.S. Kinoko = "mushroom" in Japanese. And ichi means "one" so I guess you could say the Bouncer's name is "Mushroom One".
Title: MushRoom Bounce!
Author: Two Squid Games
Released: 12/5/13
Price: Free
Number of Levels: 41
Edition: Android
Also available on: Windows, Mac, Linux
Game Library/Technology: Java, LibGDX
Features: Leaderboards, all kinds of Gamepad support including MOGA
Soundtrack: 28 songs
Notes: Premium Edition with 62 levels available for $2
Special Features: Cute mushrooms with personality; a large, ripped Bouncer mushroom with attitude!
Link to Google Play:
If you want to check out the Desktop version:
http://www.MushRoomBounce.com/MushRoomBounce.exe
(JAR file wrapped in a Windows .EXE wrapper)
http://www.MushRoomBounce.com/MushRoomBounce.jar
(Basic JAR file – the game is written in Java)
Videos: