Hi,
I work with mobilecore. I have over 12.000+ impression and $0 for 1 week. I cannot explain this situation.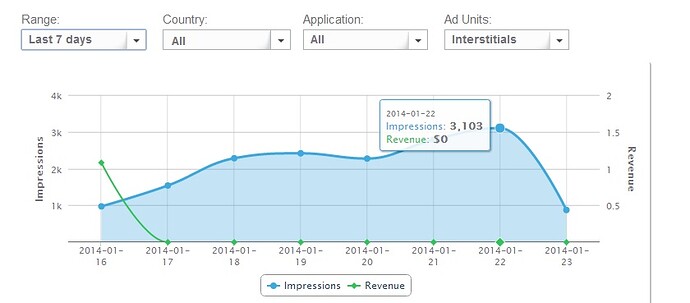 you have some country like India/Bangladesh/China in active users? When mixed write to some account manager, Lior or Luciano on skype. There can be some problem in your account, error or sth.
I talk Luciano about this situation, but there is no helpful explanation for this situation. My apps download in USA a lot (%25). Also I put my apps in mobilecore (1 ID for 1 App)
And also I say Luciano "Please search my apps for illegal or bad (spam) usage" But he cannot reply this unfortunately, I think I will work only with Appnext and Startapp.
talk Lior because this new Luciano account manager is shitty

skype: Lior(mobilcore)
for example they deleted me 16 ppl from affiiate, Luciano to replied:|
Hey Alisayin,
You can try Appwiz- ping me on skype anni-appwiz
Anni
I am also facing such low eCPM. My revenue now has gone down from $80 a day to $20 a day.
Totally true I think, it is a big mistake and they should fix it as soon as possible
Hi Ali,
This situation can actually be explained quite simply:
You have sent incentivized traffic to mobileCore and by that violated our terms of use.
Since you repeated this action after being warned, we had to stop serving ads to your account.
Stop serving ads to your account was essential mainly to protect our advertisers who are looking for users to download their app because they really want it and not because they were promised to receive coins/unlimited access on a game they play.
It's important to understand that advertisers may pay 10 times more for a non-incentivized user, and they expect to receive what they have paid for.
That is why we have zero patience for these kind of actions.
Ali - If for any reason you feel that your case hasn't been treated right, contact me and we'll try to solve this.
Cheers.
Lior
Publisher Relations, mobileCore
E:[email protected]
Skype: liorshkoori
Hi,
Thanks for your reply, Now I must say some thing about this situation:
1- Mobilecore didn't send any notification about INCENTIVIZED USAGE to my e-mail because there is no incentivized traffic, I say LUCIANO " Please show anything about incentivized traffic of ALİ SAYIN" Please show it.
2- I add LIOR from skype and write; but NO REPLY; I write Luciano and I think he cannot speak anymore about anything.
3- I put add on my apps like;
At the start and closing
As a button llike "MORE GAMES" "FREE APPS" Only ADVICE.
You know that, please search all my apps and show in making money
I think I will not work with Mobilecore anymore
Let me review your case in the next few days. You will receive an email from me on Monday.
Thanks,
Lior.
Same issue i am also facing ,
Very Bad Support . They dont reply…
Gonna remove it …
I used mobileCore and it doesn't seem to be any issue. It will be better if anyone facing this issue shows the apps in doubt to us, so we can judge & avoid them if they really randomly stop serving ads to publisher?
I have been using MobileCore since September 2013. I need to say that it is now performing quite well for me. Obviously the revenue has not crossed more than $5 per day, but am relatively happy with the eCPM I get from them.
Try adding them on Skype. Their support is great in my experience.
Bumping this for updates…
Can you get money from mobilecore form 8-7 ->14-7-2014?
anyone receive payment from mobilecore? for the period 08-07-2014 - 14-07-2014
It will b sent today as per my conversation with then