Hi All, [Mad Truck 2] is a great monster truck racing game for all ages. Now it's also available on Android(Google play Store).
It's free!

Google play Store Link:
https://play.google.com/store/apps/details?id=com.tophotapp.madtruck2
youtube vid
MadTruck2 game introduction - YouTube
screenshots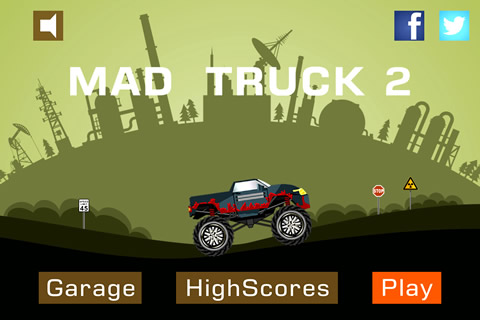 Mad Truck 2 - drive the big mad truck on the mountain road to reach the destination in the limited time. There are many
barriers(woods, stones, drums, scrap-car, zombies) on the road. It is crazy with big challenge.
Game instructions:
Drive by pressing on the right or left side of the screen.
Tilt the device to control the vehicle in mid-air.
There are 40 levels to go, you need find the real direction in some difficult levels.
Many different trucks in the shop.
Collect coins to buy new trucks, wheels and more time.
Hit drums and zombies to get high scores.
Features:
1.Support all android devices.
2. Different levels, 40 unique maps.
3. Some models of vehicles in shop.
4. Awesome physics, with bouncing, crashing, flying, exploding and more!
5. Tilt controls, accelerometer supported.
Feel free to check it out and give me some feedback! Thanks!