DOWNLOAD
https://play.google.com/store/apps/details?id=com.amebadevs.Jumper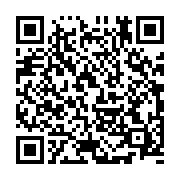 GAMEPLAY
Jumping To Home - Alien Jumper! - YouTube
DESCRIPTION
The android version of Jumping to Home is already here!!! And it is free!!!
The alien's spaceship has been crashed on Earth and it can not be fixed. The alien only has one chance to come back home, he has to jump over the platforms to reach his home, on his way he will find birds (they will modify the alien jump), storm clouds (the alien will be electrocuted if the clouds are hit) and so on…
HOW TO JUMP?
There are two ways to move the alien (Both of them can be selected in the Settings Screen):
Incline your device left or right to move the alien.
Tap on the Screen Buttons
PLATFORMS
In the alien's way there are different kind of platforms, their color will help you to identify them. A brief description of each one:
Grey: the regular platform, it can be used as you need.
Red: these platforms are broken very easily, be careful with them, the alien can jump once or twice on them depending on their state. Think fast your next move!!!
Green: The alien will be launched some more meters high.
Golden: The alien will be tele-transported to another platform on his way.
JETPACKS
On the way home, the alien will find jetpacks, do not hesitate on touch them, they will give the fastest impulse!!! While the alien has the jetpack, he is inmune.
ENEMIES
Birds: they can push the alien modifying his jump and change his balance. On the other hand, the alien can jump over them too.
Clouds: Alien's worst enemy, do not touch them, never!!! Or the alien will die…
ALTERNATIVE CHARACTERS
The game main character is completely free, you can play with him as soon as you download the game. But you can choose two more aliens:
"Slim alien": This alien will be available when you log in using your Google+ account.
"Hulk alien": A special limited offer with a reduced price. You will love this alien!!!
CHALLENGE PEOPLE AROUND THE WORLD AND COMPLETE THE ACHIEVEMENTS
"Jumping to Home" gives the possibility to identify with your Google+ account, this option is recommended since your scores will be saved online and they will can be compared with friends or people around the world. Also, some achievements have been included, can you complete them?
Enjoy Jumping to Home!!!
SCREENSHOTS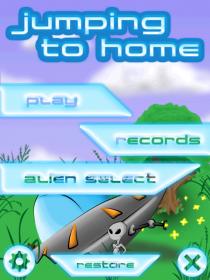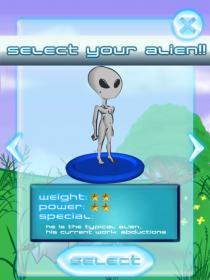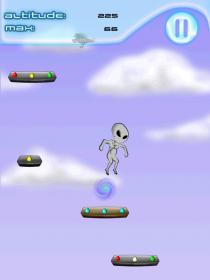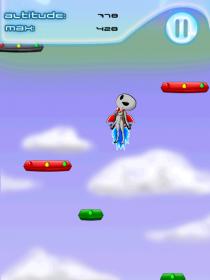 Any feedback is appreciated! Thanks!
CONTACT
Twitter: https://twitter.com/AmebaDevs
Facebook: Redirecting...
Google+: https://plus.google.com/+AmebaDevsGoogle