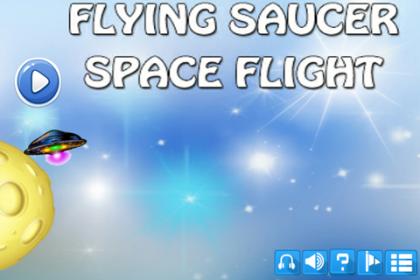 Guide the flying saucer to complete the space flight safely through a hazardous meteorite storm!
The flying saucer takes off from the yellow planet on a routine space flight to the red planet. It has to fly through an asteroid zone where meteor shower and meteorite storm occurs regularly and makes space travel a real hazard. Tap on the screen of your mobile device to move the space saucer up and down to travel through the oncoming meteorite storm. Alternatively you can also choose to use the accelerometer option to control the game by tilting your device.
The goal of 'Flying Saucer Space Flight' is to complete the space flight and earn as high a score as you can. The space flight starts with three lives. You earn scores by colliding the flying saucer with the meteorites. Collision also costs you one or half a life depending on the types of meteorites. Therefore you need to control the collisions as such that you can preserve enough lives to continue with the game. One of the ways to preserve lives is to use the energy shield to provide temporary protection from the meteorites.
There are two ways to play this fun free Android spaceship game - normal level game mode or endless run game mode. Take your pick! What are you waiting for? Download 'Flying Saucer Space Flight' and play now!