123 Kids Fun Autumn Designer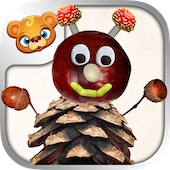 Price: [color=DarkOrange]Free
Google Play:
https://play.google.com/store/apps/details?id=air.com.rosapp.autumn
Create an amazing autumn themed world with 123 Kids Fun Autumn Designer. We have collected tons of autumn treasures for you to create countless characters, animals and objects.
123 Kids Fun Autumn Designer will provide many hours of extremely creative fun.
Use leaves and horse chestnut seeds to make a butterfly. Take a few insects, rowan fruits, pebbles and walnuts and create a meadow. Why not create houses for gnomes with mushrooms, twigs and feathers. The only limit is your imagination.
Once you have finished creating your masterpiece, you can store it and re-edit it in your very own digital scrapbook or cork board to keep and send to your friends
Additionally, there are 100 puzzles and illustrations for beginners to spark your imagination.
123 Kids Fun Autumn Designer is a great fun for the whole family. With our app, children not only exercise their creative thinking, but develop their manual dexterity and hand-eye coordination.[/color]