Chiappa Rhino Revolver Sim is a new gun simulator app for Android and you can have it for free by downloading our amazing revolver app. Inspired with great Chiappa revolvers, we came to an idea to make this weapon simulator that will realistically simulate the work of Chiappa Rhino revolvers and we hope that we have managed to reach our goal.
Chiappa Rhino Revolver Sim app is a weapon game that will bring you a lot of fun and we are sure that you will never be bored again with this revolver simulator. You can play Russian roulette with your friends, or just shoot from different virtual revolvers. This simulator game also gives you the possibility to learn something more about Chiappa Rhino revolvers. You have an option which enables you to see more details about their guns and takes you to the official website of Chiappa Rhino revolvers where you can read everything you need to know about a certain revolver.
So, if you wanted to know how Chiappa revolvers operate, this weapon app is something you simply must have on your Android phone. We must admit that the differences between real Chiappa Rhino revolvers and our virtual revolvers exist, but they are minimal.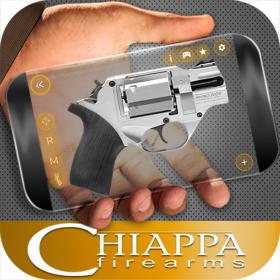 Revolvers included:
Revolver Rhino 200ds
Revolver Rhino 20ds
Revolver Rhino 40ds ( Black )
Revolver Rhino 40ds ( Hard Chrome )
Revolver Rhino 50ds ( Black )
Revolver Rhino 50ds ( Hard Chrome )
Revolver Rhino 60ds ( Black )
Revolver Rhino 60ds ( Hard Chrome )
Chiappa Firearms is an Italian industrial corporation and we are certain that all lovers of guns and weapons have probably heard of Chiappa Firearms. If you are one of them, an admirer of this amazing company, then we are sure that you will enjoy playing with this gun simulator and our representations of their guns. We have thought about every little detail in order to give you the best gun weapon simulator. This firearms app for Android has to offer a lot, for instance, realistic revolver sounds, high resolution graphics, fantastic collection of revolvers and many other great things.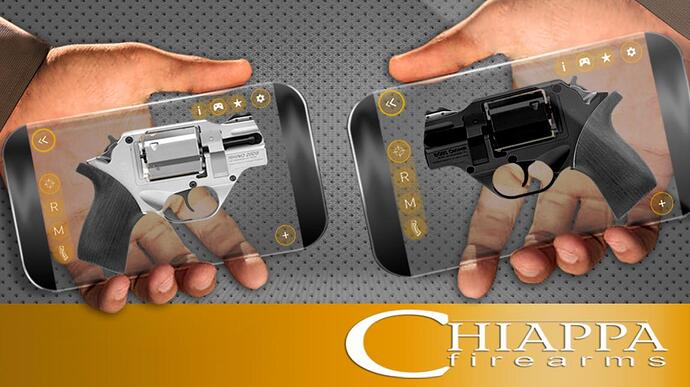 Choose one of your favourite guns, spin the cylinder, pull the trigger and start shooting from your virtual revolver and start feeling the magnificent force of these powerful weapons. Do not worry about bullets because with this firearms simulator you will have unlimited ammo. So, if you are a fan of virtual guns, are fascinated with weapon games, wait no more and download Chiappa Rhino Revolver Simulator.
Features of Chiappa Rhino Revolver Sim:
great collection of Chiappa Rhino revolvers
realistic revolver sounds
authentic Chiappa Rhino revolvers mechanics
realistic shell drop sounds
unlimited ammunition
realistic fire, smoke and recoil effects
zoom
camera flash
slow motion
vibration
mirror effects
fantastic game music and special effects
high resolution graphics
Chiappa Rhino Revolver Sim app has been created for entertainment and promotion purposes only.
Chiappa Firearms and its logo are trademarks of CHIAPPA GROUP and are used with permission.
© 2017 Chiappa Firearms. All Rights Reserved.
Special thanks to Chiappa family and Susanna Federici Chiappa.