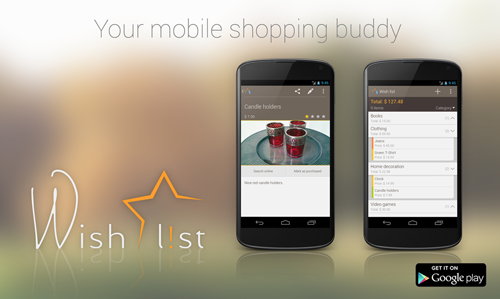 https://play.google.com/store/apps/details?id=com.cubeactive.qwishlistfree
Manage all your wishes with Wish l!st.
Wish l!st allows you to create your personal wish list. Add all items you want to buy, and Wish l!st will sort them to priority.
Quick feature list:
Manage items in your wishlist.
Stores relative information like price, priority and comments.
Add pictures to your wish list items.
Purchased history.
Quick item overview.
Sorting by category, title, price or priority.
Customizable categories list.
Subtotals.
Share your gift list with your friends.
Full language support for: English, Dutch, German, Italian
Any comments, suggestions are welcome.
Thanks!