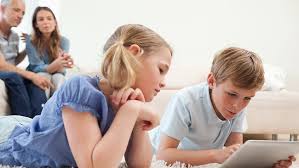 Now that the Internet is increasingly within everyone's reach, children are more and more exposed, on line, to risks which their parents cannot always control : harassment, abuse, pornography, incitement to racism and suicide, as well as cyber-bullying. The last-named refers to bullying by persons of a violent disposition who go on-line with the intention of using the new information technologies to cause harm. This kind of bullying may range from the misuse of e-mail to the publication of videos showing attacks, often filmed on mobile phones.
In order to prevent it happening to our children, parents need to find solutions to deal most effectively : teach them how to react responsibly to any potentially harmful Internet content and conduct that they may encounte, using monitor software on mobile phone.
Designed to provide parents the tools they need in order to extend their parenting into the mobile world today's kids & teens are immersed in, InnovaSPY is a powerful mobile phone application that gives you almost complete control over your child's mobile device. It enables to:
[ul]
[li]Locate your child instantaneously
[/li][/ul]
[ul]
[li]Protect your child from cyber predators
[/li][/ul]
[ul]
[li]Prevent bullying
[/li][/ul]
[ul]
[li]Provide Parental Supervision
[/li][/ul]
[ul]
[li]Encourage responsible mobile usage
[/li][/ul]
[ul]
[li]Monitor all emails, SMS messages, call logs
[/li][/ul]
[ul]
[li]Pinpoint your child's location via GPS & cell phone network data
[/li][/ul]
[ul]
[li]Turn the phone on remotely in order to listen to the surroundings
[/li][/ul]
[ul]
[li]Listen to live calls in progress
[/li][/ul]
Once downloaded & installed monitoring software on your child's smartphone you will be able to monitor as much of your child's cellular activity.