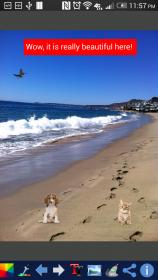 Scribble Friends is a brand new style of communicating with photos on Facebook. It enables reply from and by photos, so that you first grab photos which your friends share on Facebook, scribble / draw them with your imagination, and then share them as comments below the original photo.
With this social drawing app for Facebook, you can scribble the image with a brush, draw plain texts on the image and draw images on the image. Additionally, you can zoom in & out the screen and redo & undo changes.
Here is the link https://play.google.com/store/apps/details?id=com.inomad.scribble on the Google Play Store. And here is the website Scribble Friends - A Social Drawing App Based on Photos from Facebook - A New Communicating Style on Facebook - Draw Photos and Share / Comment on Photos. I will really appreciate it if you can give me some feedbacks. Thanks a lot!