HandWallet version 2.40 was released!
Can download for free from Play Store:
Expense Manager App
What's new?
Say Say "good bye" to Location permissions! The support for finding the location of an expense or Business on the map is now part of a new separated app:
https://play.google.com/store/apps/details?id=com.mediavision.personalfinance

We added a filter that can detect duplicated Actions. In the "Actions" screen press the filter icon and then select "Might be duplicated".

We have changed the details screen of an action: Advanced subjects (like remarks, payments, pictures, location and so on) are now located in the main screen (if they contain information).
If you don't like this new interface you can switch to the old interface by pressing the "Options" button and then "Display".

You can view a log of changes in Actions by pressing "options" and then "maintenance". You can also filter the actions by a new parameter "recently created or changed".
How can an expense manager app be both simple and professional? This is the secret of HandWallet: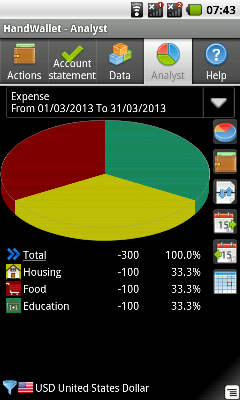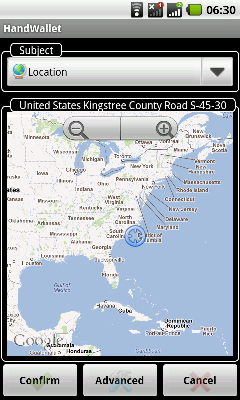 • FREE for home users
• Manage your cash flow, checking, credit cards, e-wallet or giftcard
• Interactive graphical charts of your expense and income
• Voice recognition! Record your expense without typing
• Save you time: more than 100 built in categories and sub categories (Food, Health, Transportation etc)
• Multiple accounts
• Multiple currencies. Automatically online exchange rates
• Travel abroad and manage all expense in your home currency!
• Can link each transaction to categories (what is the expense?), location (where did this expense took place?), persons (who did the expense?) or projects (to what activity this expense is related?)
• Plan budget for each category, person or project
• Let you attach images, documents or voice memo
• EXCLUSIVE! Calculate the exact payments in your credit card according to your "grace period" and "due day". You will never be surprised again
• EXCLUSIVE! Calculate the interest and linkage on your mortgage or loans
• EXCLUSIVE! Manage your expense by consumption. If you pay for something for the whole year show in the chart only the relevant part for each month!
• Personal accountant. Business users can track invoices, receipts, delivery notes and VAT
• Business users can manage different worlds: one for their business and one for their home
• Manage expense anytime anywhere - internet connection not required
• Personal Finance management: personal / family calclulator.
• Advanced search options to find a transaction
• Backup & restore
• Let you share your information
• Online help within the app
• Fast, reliable & secured. Password protection
And much more…
Why to use an expense manager?
Because it will give you control of your financial life, help you to be organized, save you money and give you a better chance to discover your full financial potential.
Why to use "HandWallet Expense Manager"?
Because it's the best expense manager app. And because we are creating expense manager and accounting software for 10 years and know exactly why most people want to manage expense but only few succeed.
How to start?
Download the app for free. Then press the "accounts" button and create your accounts, for example Bank of America, credit card visa or electronic wallet.
Then press the "actions" tab and log your first expense.
How to manage budget?
Select the "data" tab and then categories. Select your category, for example "car expense". Press the "advanced" button and select the type of budget: fixed budget, summarized budget and so on. You can define a different budget for each period.
How to see a bar or pie graph of your expense?
Press the "analyst" tab. Then select the category, for example "car expense" and the period.
You can switch between expense and budget by using the icon at the left.
Play store:
Expense Manager App
Or use the QR from your phone: