Are you ready for an awesome high school adventure? Fasten your seats because the best interactive story is here! Download the brand new games "High School Story - Interactive Story Games" and create your own teenager games! Experience the high school life and make life choices that will change your fate forever! How will this interactive story unfold? Will you make the right choice? New episodes will show!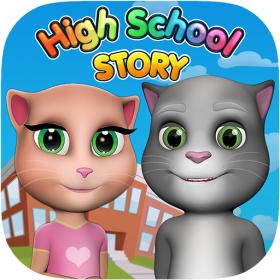 High School Story is the coolest high school simulator game which will become your favorite pastime. The new school year has started so let's see what surprises it will bring. Choose your own path - make choices of your hairstyles, clothes and your teenage crush. It's a great combination of interactive games and dress up games for girls. Attend parties, go shopping, make new best friends and enjoy spending time with your BFF. Go on wild trips with your classmates and learn all their secrets. Go through all challenges and stories with your favorite talking friends and have a lot of fun playing the thrilling high school games for kids.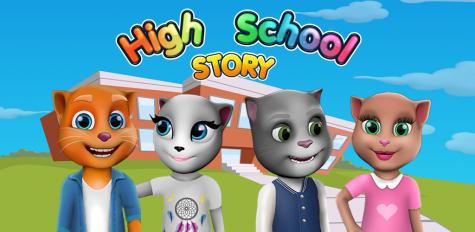 You will love the characters, plot and the storyline and soon you will be craving for more chapters. Get your first teenage crush. Discover who is the mysterious girl the male character can't stop thinking about. And all that with the help of his BFF. This will be a crazy journey which will help you create your interactive stories. If you are looking for some good episode games for girls then you are at the right place. And boys will like it too. Your talking friends - talking cat Tommy, talking cat Inna, talking cat Lily and talking cat Bob are ready to have fun and exciting high school life. So be ready to help them with all problems a new school will bring. The greatest teen love story is waiting for you. Choose your story in the most interesting romantic game for teenage girls!



Features of High School Story - Interactive Story Games:




Dress to impress! Choose some great outfits and hairstyles for your virtual pets and express your fashion style!


Make choices in this incredible simulation game!


Interact with friends and new acquaintances and have some new experiences!


Create your own love story in the exciting high school games! You influence the future of your friendships and relationships in this visual novel!


Play the best teenager games and choose your story games for free!


Enjoy awesome teenage characters, amazing graphics and animations and simple tap-based gameplay!

Do you enjoy role-playing games and high school games? We have made for you the best mix of these two so be ready to see the impressive storytelling games for free with romance, excitement and many plot twists! Make the best choices at the critical moments and change the story line in this episode games. Once you start playing story games with choices for kids you'll become completely immersed in the interactive virtual life stories. Live your own high school life through the amazing story you play. You can get excellent games for kids and teen games. Choose your own adventure games which will make your life full of joy. Hurry up and download your favorite interactive story games for girls High School Story - Interactive Story Games and start the fun!