[b][game] Shooting Dots blade gear
https://play.google.com/store/apps/details?id=com.shooting.dots.miitoo[/b]
Play Shooting Dots kill gear to pop dots or cut finger with oops. Check how many white dots you can pop ? Touch screen the blade gear will shoot and pop white dots balloon, careful don't tap the white dots if not near the shooting line. This shooting dots game is frenzy addictive game. It will drive brain crazy but you still love it as your first love. The blade gear is your shooting gun. When white dots bounce close, shoot ! Bingo shooter, you win!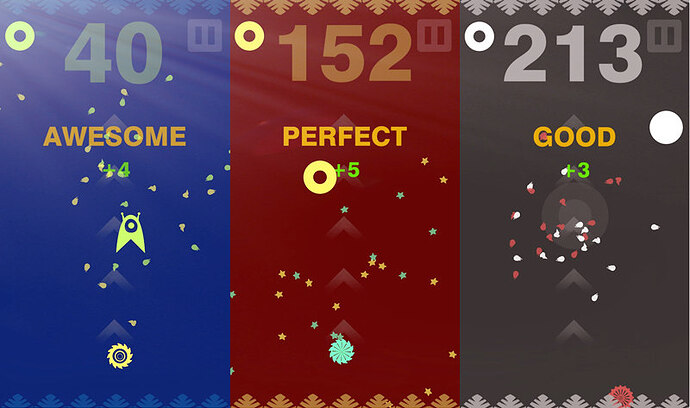 Shooting Dots killing secrets of blade gear :
Use blade gear or sprocket to aim the white dots , touch screen and shoot ; Don't cut your fingers shooter !
White dots will be sliced and give split sparkles if hit with average shoot, good shot, awesome hit , and perfect shoot . Be careful with the dota s.
Shooting missions : before shoot, you will receive a mission , complete shooting missions to level up . This is an arcade shooting game, try your shooting skills .
Shoot themes : complete every 10 missions to unlock new themes like: pop dots, kill alien, pop balloon , shoot cicada , kill jellyfish , two dots and more.
Shooting dot Rules : 1. shoot dots in 5 seconds , otherwise the blade gear will fall and cut the edge, you fail ; 2. Tap shoot when white dot near middle line slither , otherwise you will miss shooting, oops , you fail , 3. Remember your mission and complete missions to level 4. Oops again ? Frustrated ? Normal people can only shoot 10 successful shots . No ? Try it now !



Strategies to achieve high scores :
Aim and shoot when white ball bounce close to shooting line . Don't tap or shoot when it is cross middle . Shoot when it is bouncing back .
After slow balls, next ball will speed up or slow down sharply, catch them and pop directly , 3. Keep patient and wait your prey come closer ; Enjoy the arcade dots game .
Tap to shoot and score up , enjoy shooting fun . Who is more accurate shooter ?
Complete missions to play in more themes : kill the alien , shoot cicada , kill jellyfish and more .
No matter what kind of games you like , this shooting dots game will drive your crazy . Only the most accurate shooter can get high scores . Believe or not, get this game and have a try of shooting fun . Share with friends if you get high playing it.



Follow us here if you real love us:
Facebook : Miitoo
Twitter: https://twitter.com/MiitooMobile
[b]https://play.google.com/store/apps/details?id=com.shooting.dots.miitoo[/b]