A cool new app Numbers Reflex
★★★ Introducing Numbers Reflex ★★★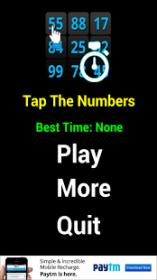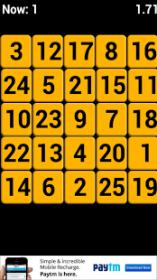 Description:
Touch the Numbers from 1 to 25… how fast can you find and touch the numbers?
Numbers reflex a worldwide hit and played by 1+ million people in dozens of countries on the App Store now on Google Play!
It's a simple idea: you must touch the mixed numbers in consecutive order from 1 to 25 in a grid!
Sounds easy, right?
Numbers reflex is very challenging, with mistakes to be made and nerves to get the better of you - it's a game that tests both your reflexes and peripheral vision!
So - you think you have what it takes to beat Numbers reflex?
This mind-blowing game will keep you on the edge of your seat as you locate each number in a click - the faster you become, the more mistakes you will make!
Numbers reflex is perfect to fulfill a quick moment of boredom with joy! Each addictive game takes just seconds to complete and will have your mind in knots as you tap each number. Will you melt under the pressure?
Numbers reflex is a challenging game that anyone can play… if they are brave enough!
You can view your high score and see where you fit in the leaderboard - at the same time, you will also improve your reflexes and expand your peripheral vision!
Test your reflexes now in Numbers reflex!
Test your reflexes and peripheral vision in a challenging game!
How fast can you complete the grid of numbers?
Played and loved by over 1 million people worldwide!
Leaderboard and scoreboard support.
Link to Google Play Store: https://play.google.com/store/apps/details?id=com.numbersreflex
Requirements: Android 2.2 and Up.
Available for Android.
I recommend you to download this free and useful app.
Enjoy!!