Hi guys! MY first game! Rate/review 5 stars and i will rate your game the same!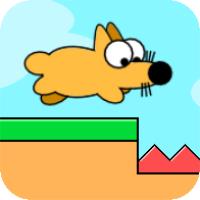 https://play.google.com/store/apps/details?id=com.tocrva.rundog.android
Jump over lava pits in an endless platformer!
Controls:
Tap left part of screen for a small jump, tap right part of the screen for a bigger jump, and tap in jump for a double jump.