Hi Everyone,
FlipBeats Celebrates 50 000 + Downloads.
Are you ready to Celebrate with us? Get Ready for the FlipBeats Video Challenge.
Winners will be and winning video will be featured on FlipBeats webpage + Social media and shared among the fast growing FlipBeats Community.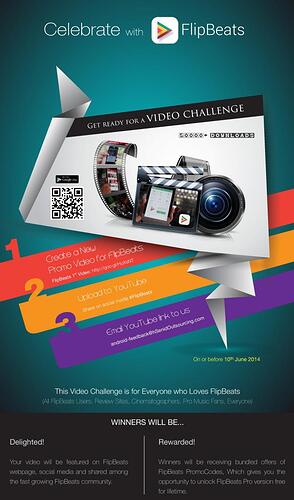 This is what you have to do:
Create an attractive promotional video for FlipBeats (Make it better than our 1st promo video)
Upload it to your YouTube Channel and share it on your social media using

#FlipBeats

Send us your video link to

[email protected]

on or before 10th June 2014.
FlipBeats Webpage: Best Music Player for Android | Best Android Music Player | Best Android Music App | Music apps for Android | Best entertainment apps for Android | Audio player android | Music player for android | Music players for android | Entertainment apps | Music players | Best way to listen to music | Best way to listen to music on phone | Best way to listen to music on Android - AppSpace by hSenid Outsourcing - Mobile Apps Sri Lanka | Mobile App Development Sri Lanka | Mobile Apps Sri Lanka | Mobile App Development Companies Sri Lanka
GooglePlay: https://play.google.com/store/apps/details?id=com.hsenid.flipbeats
Facebook Fan Page: Facebook Promo Video: FlipBeats | Best Music Player - YouTube