The year-end brings no greater pleasure than the opportunity to express to you season's greetings and good wishes. May your holidays and new year be filled with happiness!
Happy Holidays! https://play.google.com/store/apps/developer?id=Ronald+A.+Mendiola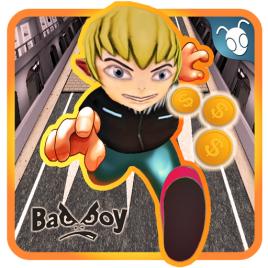 BadBoy Run - is a cool running 3d game.
Addictive and fun game for Android! Share to your friends and beat their higher score on this game.
Swipe to turn, jump and roll to avoid obstacles, collect coins to unlock achievements.
Leaderboard and achievements of the game, run and collect more coins, challenge yourself now with this fun game.
Score - Distance | Keep running to get higher score.
Coins - Achievements | Collect more coins to unlock achievements.
How to play?
[ul]
[li] Jump - slide your finger up.
[/li][li] Roll - slide your finger down.
[/li][li] Turn left - Slide your finger to the left.
[/li][li] Turn right - Slide your finger to the right.
[/li][/ul]
Screenshot: